<!-MAIN CONTENT AREA STARTS HERE->

BILPA lab and equipment



Layout of the BILPA clean room.
The BILPA laboratory area consists of an ISO-14644-1 Class-5 and Class-7 clean room for semiconductor detector system assembly and testing.
Our main expertise is in providing high-density interconnects and precision assembly of semiconductor based detector systems (application specific read-out chips with wafer-scale sensors) for Particle Physics experiments.
Testing of electronics, sensors and detector modules is carried out with radioactive sources and TCT measurements in the lab, and with protons irradiations at the MC40. An ALiBaVa readout system is available for characterization silicon detectors.
Below you will find a description of the equipment that is used in the facility.
---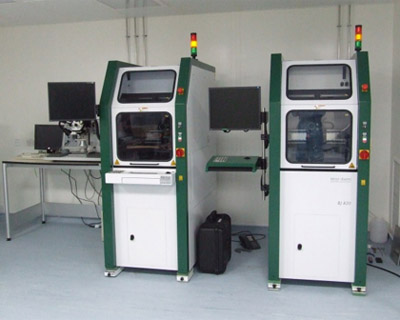 Mouse over small images for tour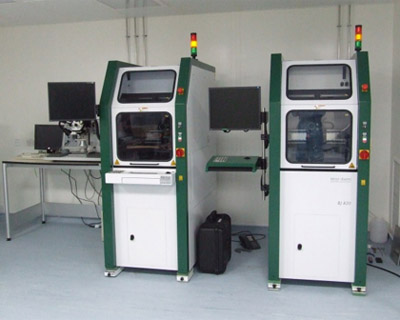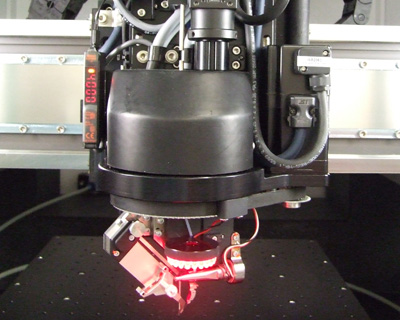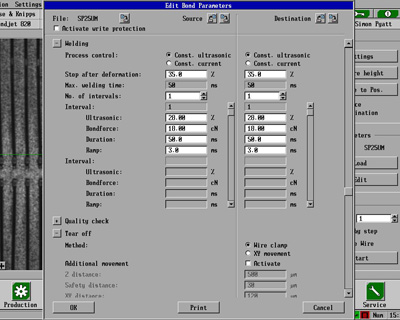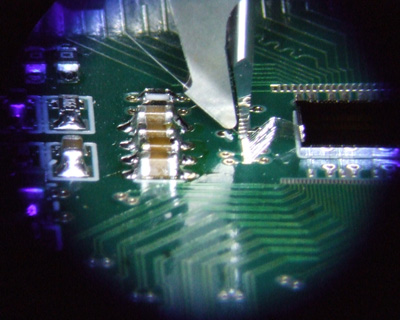 Hesse & Knipps BondJet 820 automatic wire bonder
We have two Hesse & Knipps BondJet 820 automatic wire bonders to allow high volume production alongside R&D work.
This is a high speed automatic fine wire wedge bonder currently configured for 25 micron aluminium wire.
Automatic pattern recognition to aid location of bonding pads allows for fully automatic operation.
Wire bonding layout programs can be created which can then be saved and used for future wire bonding operations.
Loops lengths can be from 70 microns up to 20 mm with programable wire lengths, loop heights and individual loop shapes.
It has a bonding area of 305 mm x 410 mm with a production bonding speed of up to 7 wires per second with a bonding position accuracy of 1 micron.
It features a realtime bond quality monitoring system.
Link to the Hesse & Knipps BJ820 webpage.
This is our main wire bonder and is used for all the important wire-bonding jobs, and is particularly vital for large volume production work.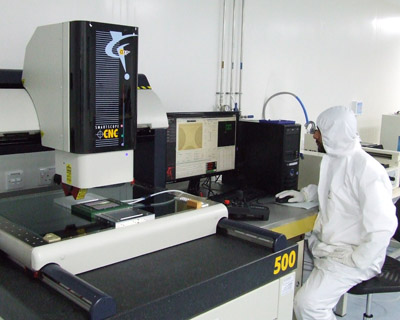 Mouse over small images for tour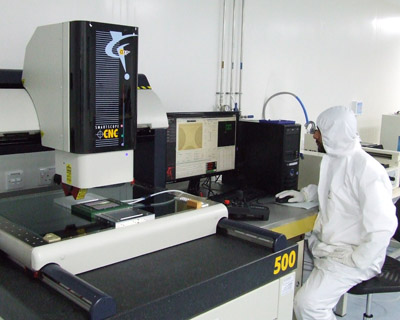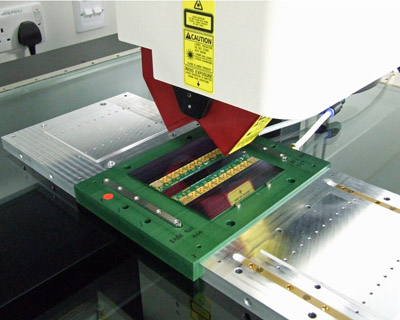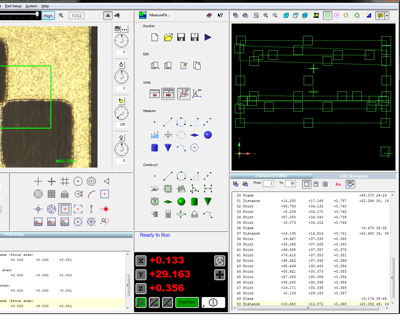 OGP SmartScope Flash 500
This is a high precision metrology machine which includes the additional Digital Range Sensor laser probe.
The working area is (X)500 mm by (Y) 450 mm. The X, Y and Z measurments has an accuracy resolution of 0.5 microns.
The machine is fully programmable with a program once and then repeat function.
All measurement outputs can be saved and dimensions can either be calculated using the machine interface and then exported for use in other software packages.
Link to the SmartScope webpage.
This is a useful machine for getting quick metrology results using both laser and optics to check the building accuracy of components assembled in the facility.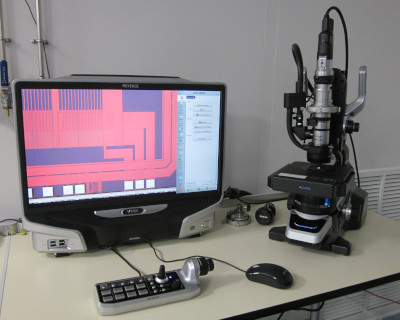 Mouse over small images for tour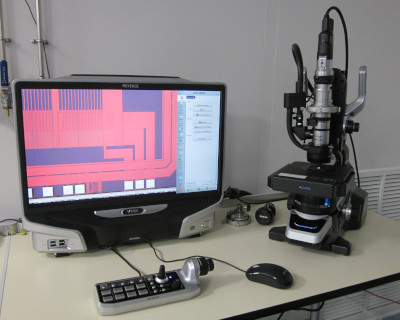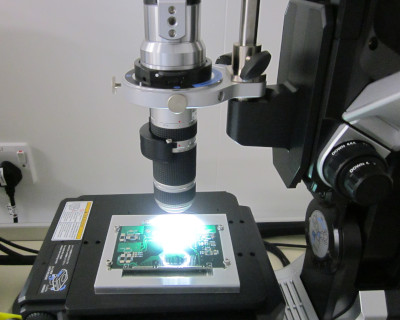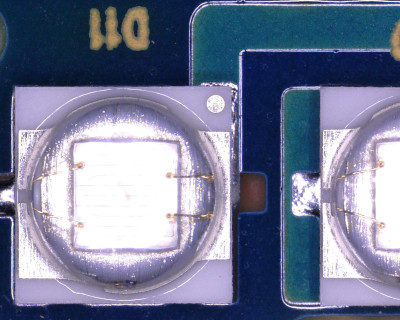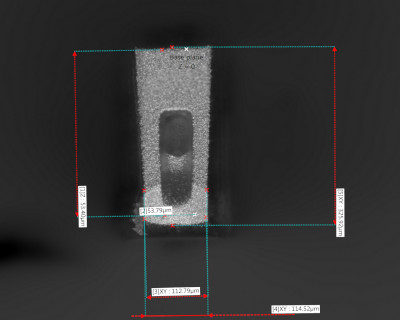 Keyence digital microscope
This is a state of the art digital microscope from Keyence. The model VHX-6000.
It comes with two lenses; VH-Z20T which magnifies up to 200 time and the VH-Z100T which magnifies up to 1000 times.
The lenses are mounted onto a motorised XYZ stage which also features a tilt function.
The inbuilt software features image quality optimisation, image stiching, 3D image generation with multifocus image building.
There is also the ability to take onscreen measurements with a selection of metrology tools.
A very clever microscope with lots of features. Very useful for generating images for presentations.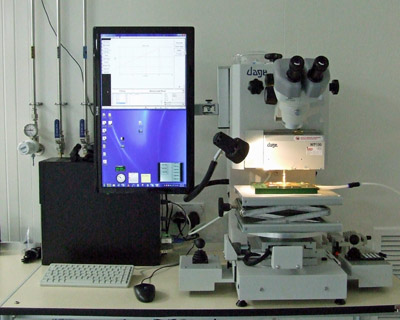 Mouse over small images for tour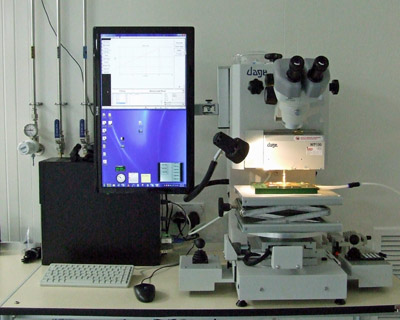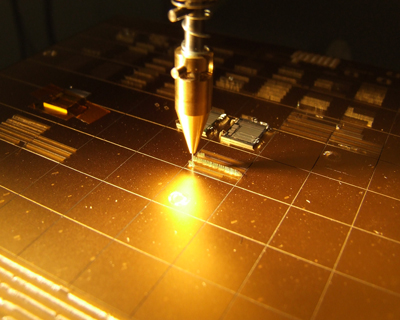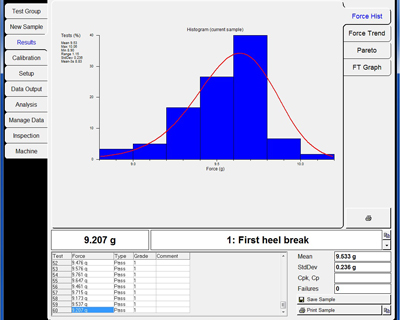 Dage 4000 Multipurpose Bondtester
This bondtester is setup for both wire pull and shear testing.
The current configuration allows for pull testing up to 100 grams and shear testing up to 100 kilograms. It is capable of destructive and nondestructive testing.
The software that comes with the system can produce a database of test results that can then be imported into Microsoft Excel for statistical analysis.
It features a joystick controlled system for fast and accurate alignment prior to pull and shear testing.
Link to the Dage 4000 webpage.
This machine is used to pull test the wire bonds made by the wire bonders as a quality control check. It is also used to shear test the adhesive strength of the glue used to glue down the ASICs.

Mouse over small images for tour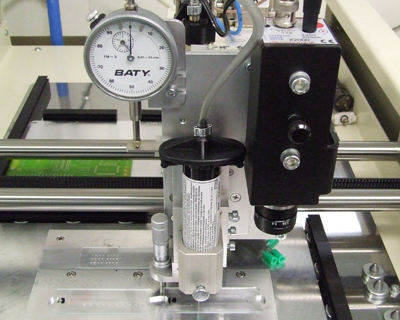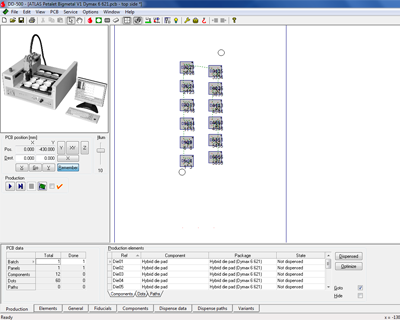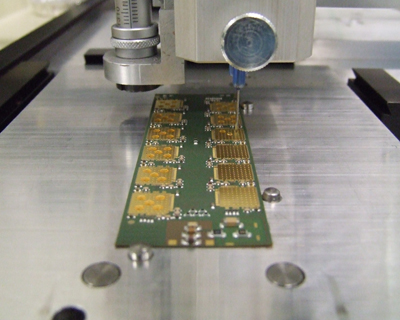 Dima Dispense Master
This is the upgraded version of the Dima Dotmaster with the DD-5097 upgrade kit.
This is a programmable glue dispensing system. The glue dispense patterns are programmable and can be a combination of dots, lines and SMT component library shapes.
The working X Y area of the Dispense Master is 320 x 420 mm.
Standard dispense cartridges of various sizes can be fitted, with the optional addition of an auger screw feed dispense system.
Link to the Dispense master webpage.
A very versatile machine for generating any type of glue pattern. Fast to set up.

Mouse over small images for tour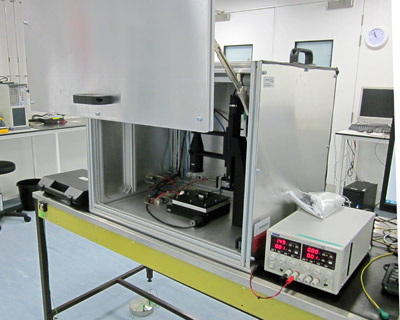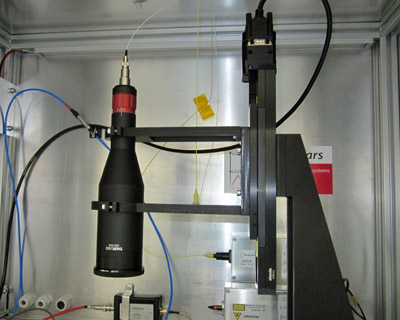 Particulars, Advanced Measurement Systems, scanning Transient Current Technique (TCT) apparatus
The scanning TCT apparatus provides detailed spatial maps of sensor charge collection efficiency. The laser can be operating orthogonal to the devices under test (surface TCT), and it can also deposit energy from the side (edge TCT).
It features both IR and red laser (1064 and 660 nm). The spot FWHM is <11 micron at 1064 nm and <8 microns at 660 nm.
The stage is 3-axis computer controlled with 1 μm resolution and range 10 cm x 10 cm x 10 cm.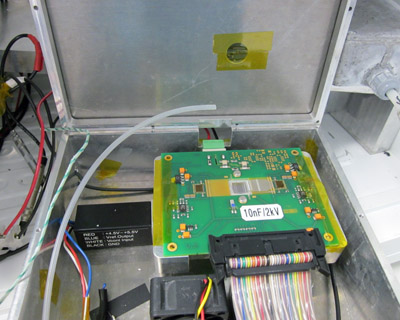 Mouse over small images for tour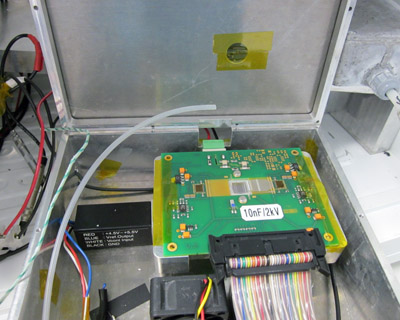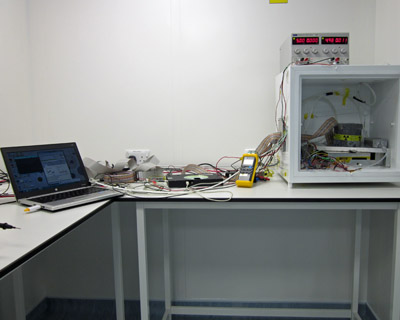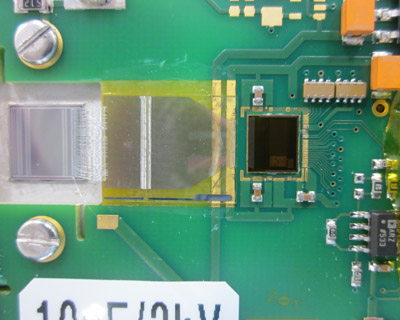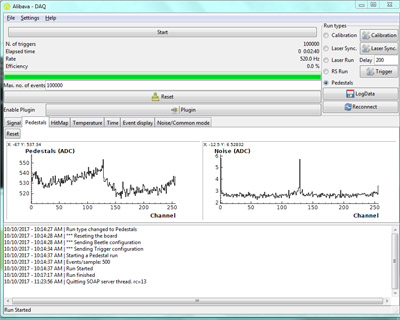 ALiBaVa setup
The Alibava System is a portable readout system designed to characterise the microstrip silicon sensors, both before and after irradiation. The sensors are readout using a front-end chip, which was developed for the LHC experiments.
The mother board interfaces the detector to the PC via USB. This board controls the entire system and is used to process the analogue data that comes from the readout chips and external trigger signals. The readout chips are hosted on the daughter board. This board also has fan-ins and sensor support to interface the sensors.
This is the system we use to study charge collection properties of the microstrip sensors designed for the ATLAS ITk detector.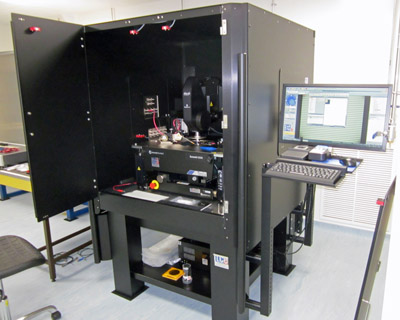 Mouse over small images for tour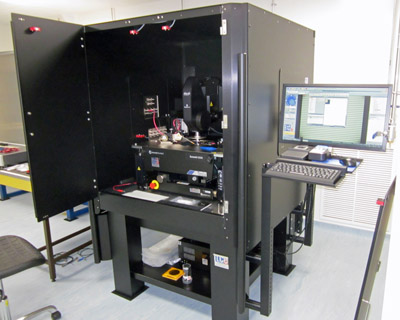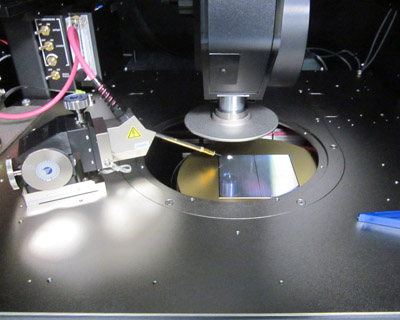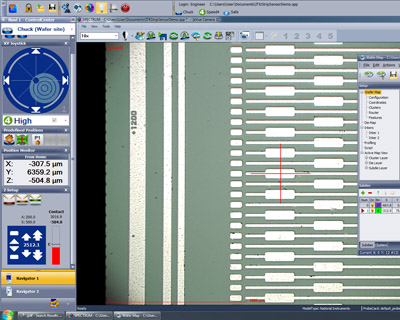 Cascade Tesla Semi-automatic Probe station
The Cascade Tesla semi-automatic probe station has full precision 3-axis control and micro-chamber for temperature controlled testing.
It is set up to allow probing of strip or pixel detectors sense-elements for capacitance vs voltage (Wayne Kerr Precision Impedance Analyser 6500B) and current vs voltage (Keithley 2410) up to 1kV.
The probe station has a digital imaging system (eVue-III and Mitutoya objective) with Cascade Summit Velox software (which includes automated profiling of wafer surface to avoid probe overdrive).
It has 1 μm resolution (closed loop optical linear encoder) with repeatability ≤ 2 μm and speed > 50 mm/sec to allow fast acceptance testing of multi-diode wafer-scale sensors on up to 200mm dimeter substrates.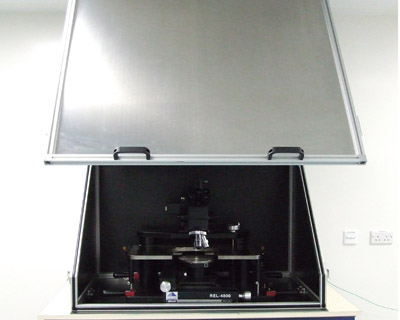 Mouse over small images for tour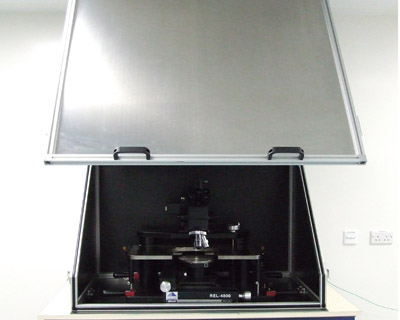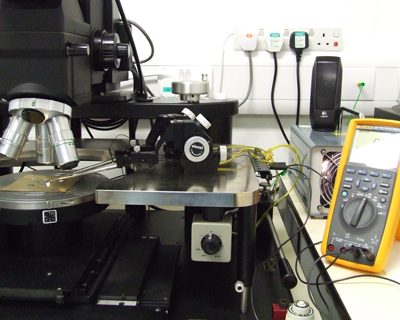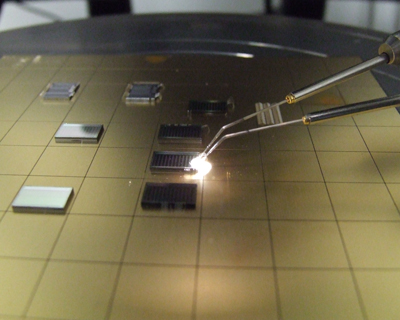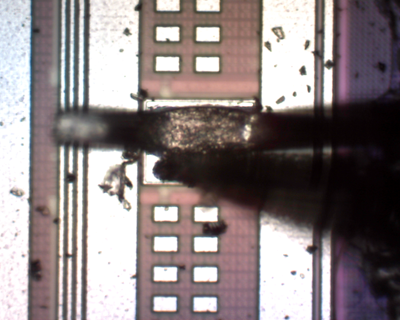 Cascade Microtech REL 4800 Manual Probe Station
As with the Tesla has Teflon coated high precision probes which can be manually guided in the X, Y and Z directions and used for fast electrical measurements where only a small number of locations need contacting.
The microscope is motor driven and can magnify up to a sub-micron scale for detailed device inspection.
The high resolution and precision probes also allow removal of wire-bonds or surface debris.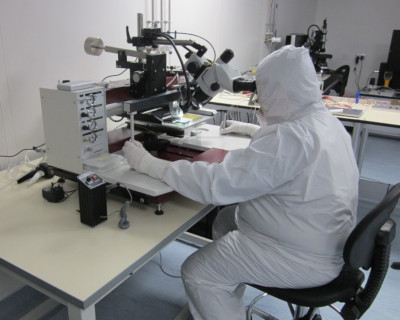 Mouse over small images for tour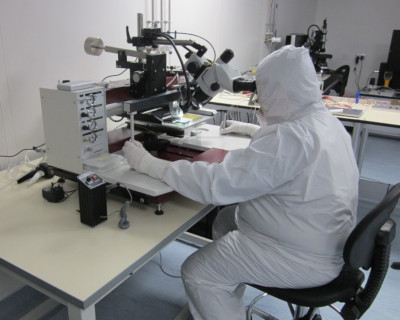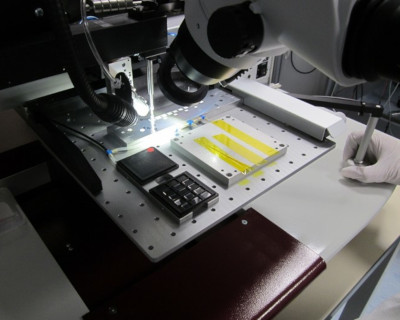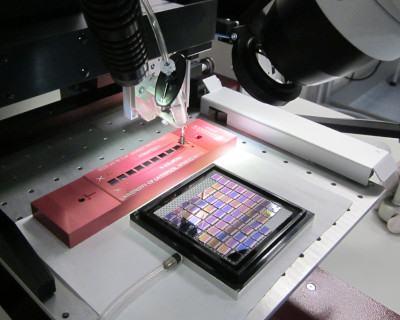 Tresky T-3002-M manual die bonder
This is a manual high precision die and component placer which comes with several modes such as die pick and place, glue dispense and wafer die ejector
Very high manual accuracy can be achieved in positioning of ASICs which also includes a fine adjustment feature in both X and Y directions
It features different pick up tip sizes for ASICs of various dimensions, held using vacuum.
Link to the T-3002-M webpage.
An extremely robust and reliable machine that is easy and accurate to use.

Mouse over small images for tour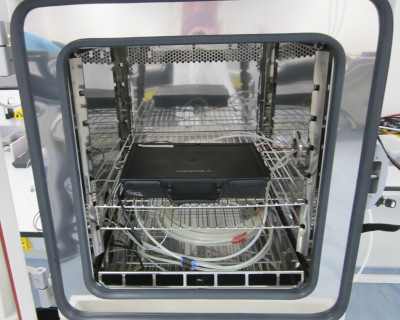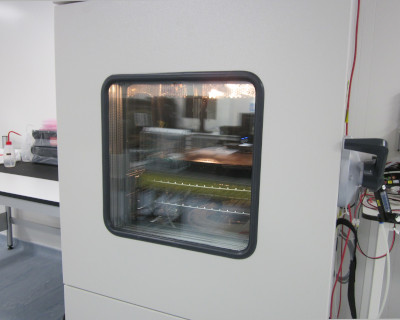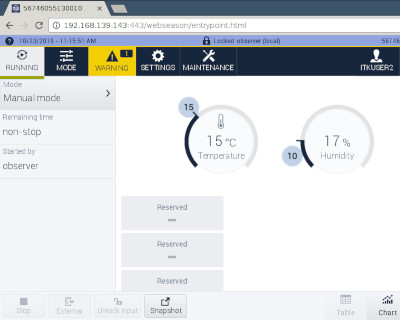 WeissTechnik L C/150/70/3 Climate Test Chamber
This is a climate (temperature and humidity) controlled test chamber for device testing in controlled and/or extreme climate conditions.
The chamber has a 150 l test space and can operate at temperatures from -40 to +180 °C (at rates of up to 3 °C/min).
Automatic humidity control is only between temperatures from +10 to +95 °C and can be controlled between 10 and 95 % relative humidity.
A smaller test box is utilised within the large test chamber with its own temperature and humidity monitoring for small scale test in cold but dry environments (-40 A smaller test box is utilised within the large test chamber with its own temperature and humidity monitoring for small scale test in cold but dry environments (-40 °C at 10 %RH).C at 10 %RH).
A very useful temperature range and features remote control.

Mouse over small images for tour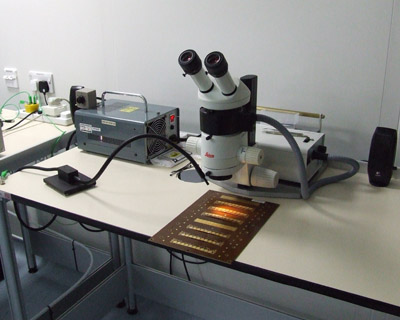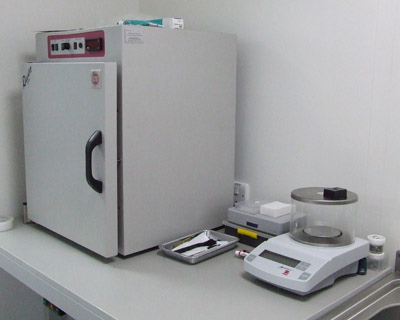 Other equipment in the clean room




The clean room also includes other equipment such as microscopes with light sources, scales for weighing accurate amounts of glue and an oven for curing after ASIC placement

An extensive dry cabinet storage system for electronic components exits that has a constant nitrogen feed.

Plenty of work surfaces which all have a vacuum, compressed air and nitrogen supply.

There is a glue weighting and oven curing system for epoxy glues.

The facility includes everything for production work.






<!-MAIN CONTENT AREA ENDS HERE->