Particle-Physics Manager is a single-player turn-based game, where the player makes decisions each turn to determine the activities at their laboratory. It is designed so that it may be played and enjoyed without having any previous knowledge of particle physics. However anyone playing will gain familiarity with the basic terminology and concepts, and improved understanding will generally lead to a higher score.
The main area of control for the player is in managing the research programme and personnel. He or she coordinates the activities of Professors (project leaders), Research Associates (specialists in a given area) and Students (with developing skills), divided between theory group, experiment group and technical group.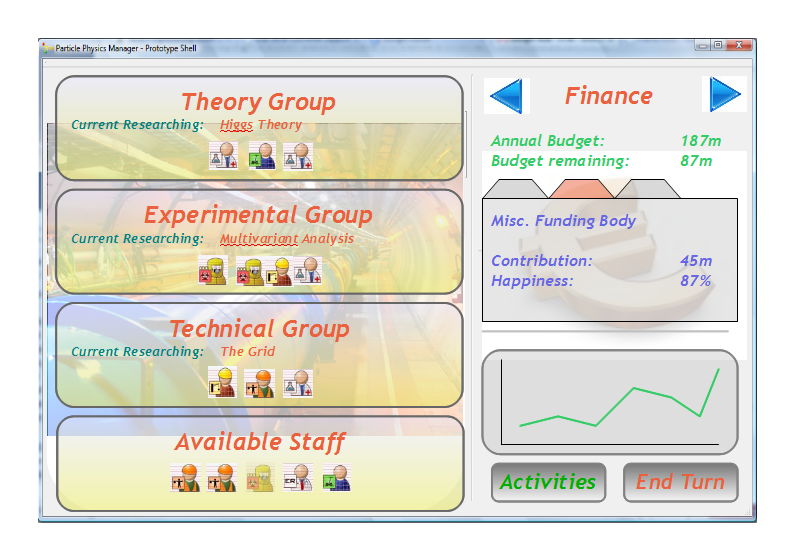 Each turn involves the following:
A budget report is given, summarising costs for laboratory operation since the previous turn, and showing any new funding receiced;
Inactive professors propose new projects - for example to undertake supersymmetry calculations (theory), to define a new trigger strategy experiment), or to enlarge the computing cluster (technical). The player is given access to information on what each involves, and why it might be interesting, then must decide which project to support, and the number of researches to allocate, taking into account the budget constraints.
An update is given on each active project. the speed of progress depending on the quantity and expertise of the staff assigned, and a player may choose to assign more staff to a particular project so that it progresses more rapidly. In some cases a player is shown project results, for example the performance achieved in detector tests, with brief explanations, and must decide from these if more research is needed, or if the project has been successfully concluded.
Random events may occur - for example discoveries at a rival laboratory, detector problems, a new theoretical prediction for a high Higgs mass. These require additional decisions, ensuring that the player always has interesting challenges with which to deal, and that the game is different each time it is played.