Technology history of the Birmingham PP group

... in terms of ...

Computers
IBM 360/44: 1967-1974, running OS/MFT, RAM c128kB, background jobs 34 kB.

Nova 1220, Nova 3: for ascii device attachment via 4025 IBM channel interface, 1970s and early 1980s
PDP11/40: (three) for film analysis: YARD and VAST systems. HPD scanning system was via IBM (till c1981).

IBM 370/145: 1974-1981, initially 384 kB, 4 channels, 4x100MB total disk; 6x200MB disk in 1980; upgraded Jan 1979 from 1 MB to 1.5 MB RAM (including 1MB Memorex).
Running VS/1 system, with up to around 512 kB virtual storage per partition.
DEC VAX 11/750 (4MB memory) and VAXstations, c1985-.

IBM 4341 (model 1, 2 MB RAM, 6x200MB disk) (model 11, 6 chan, 8MB RAM, 3.6 GB disk in 1987) (16MB in 1988),: installed January 1981, cost approx 210k UKP, running VM/SP, with VS/1 system (till 1985) plus many VM/CMS users,
running in individual virtual machines.

370E processors: #1 1985, #2 1988 (4 MB), hardware design by Weizmann Institute plus PJAS at Birmingham;
construction by RAL; operating system software by DB at RAL and LSL at Birmingham, cost 20k UKP for 4MB system, speed 2 x 4341.

IBM 4381: model 22 in 1988; model 92E in 1992 (32MB, 12 channels), running VM/ESA.

HP 755, 715/75, J200/J282, C200, C360: 1994-c2003, running HP-UX flavour of Unix.
Linux servers epix and eprex: 2000-now.

Disk space
IBM 3330: 1974-: 4 x 100 MB upgraded to 4 x 200 MB, [57*4kB per cyl]

IBM 3375: 1980s: 16 x 959 cyl, [96*4kB per cyl]
IBM 3380: late 1980s to early 1990s, 8 x 885 cyl and 8 x 1770 cyl, [150*4kB per cyl] (pictured)

HP SCSI external drives : 1994-1998, 4 x 4 GB
Andataco towers: 1995-2002, progressing through 8x4, 6x9, 2x18, 4x50, 2x73 GB SCSI drives

Network Appliance RAID: 2001-2005, 1TB RAID with 36GB disks

Infortrend RAIDs: 2001-now: ranging from 0.73TB to 72TB per chassis.

Tape Storage

IBM round tapes 1600Bpi, 40MB per 2400 foot tape (10kB block size)

IBM round tapes 6250Bpi, 144MB per 2400 foot tape (10kB block size)

IBM square tapes 38kBpi, 1984-1990s, raw capacity 200MB per tape

DDS1, DDS2, DDS3: raw capacity 1.3-2GB, 4GB, 12GB per tape

DLT tape: raw capacities: (III) 10GB (IV) 40GB per tape

Ultrium LTO-1: raw 100GB per tape
Sony S-AIT: raw 500GB per tape
Ultrium LTO-5: raw 1.5 TB per tape
Job control and Scripting languages
IBM JCL under OS/VS1 (JOB and EXEC and DD statements)
CRJE scripts (Conversational Remote Job Entry system)

EXEC and EXEC2 script languages under VM/CMS
REXX language under VM/CMS, developer Mike Cowlishaw (Birmingham graduate, IBM Fellow)
Shell scripts (sh, ksh, bash, tcsh) under HP-UX and GNU/Linux
Program editing and development systems
RAEDIT editor, and RHREMOTE compilation and testing, developed in-house (1975-c1978)

CRJE (Conversational Remote Job Entry): editor, job submission, and job output viewing (c1978-c1983)

VM/CMS (Virtual Machine Conversational Monitor System) (1981-1995)

HP-UX Unix (1994-c2003)

GNU/Linux (2000 onwards)

Monitors
Tektronix 4002 and 4010 on wheelable trolleys, 1970s
Cifer terminals, 24x80 text only, desktop, via a ~1 MHz in-house slotted-ring network (PJ)

IBM 3270 terminals and Memorex equivalents, text only, c1981-1990, via RG62 cable. 16 in number in 1987.

Megatek 6000 3-D graphics display, 7000 in 1981, 7500 in 1988
Falco terminals, text and graphics, mid-late 1980s, via IBM 7171 DACU multi-port RS232 device (1986-1995), 32 in number in 1987

HP X-terminals (1994 to early 200x): 1024x768 and 1280x1024 resolution

PC monitors (2000 onwards): 1280x1024 and 1920x1080 resolution
Local networks
Megabit slotted ring for terminal traffic (developed in-house by PJ) (1970s)

Cambridge ring for several peripherals (implemented by RJS) (1980s)

Gandalf PACX terminal network (300 ports, 19.2kb/s) for Physics (planning by JC) (c1986-c1995)

Thin Ethernet (on RG58 cable), 10Mb/s, for Physics (planning by LSL, 1990) and campus

Fast Ethernet (on twisted pair), 100Mb/s, for campus (planning by IT Services)
Gigabit Ethernet within PP server room (c2001-), initially for our ALICE and ATLAS farms

TenGigabit Ethernet within the PP server room and cross-campus, for GRID traffic (2012-)
Wide area networks
SDLC via HASP / MAST to RAL (1970s), 4.8-9.6kb/s, supporting remote job entry, and ELECTRIC system (editing, email)

SERCnet X.25 (locally via Edinburgh protocol-converter) (1983-) supporting Coloured Book protocols (ftp, email, pad)

JIPS (JANET IP Service) (locally via IBM 3172 Interconnect Controller) (1991-1993) (ftp, telnet)

SuperJANET / JANET (1993-now)
Printers
IBM 1403 N1 printer, c1975-1985, fan-fold paper, 1100 lpm (1400 lpm with UCS train), so approx 21 pages/minute.
Benson-Lehner drum plotter, c1975-1990.
Also Digiplot plotter (c1987).
Tally 2000 and 3000, HP Laserjet 2000, Qume daisy-wheel, QMS Lasergrafix 800.

HP Laserjet 3si, 5si, 4300, Xerox 850, 8550, 8870.

Our fastest printer (in 2013) runs at 33-43 pages per minute: just twice the speed of IBM 1403.
Computer servers located in Uni Computer Centre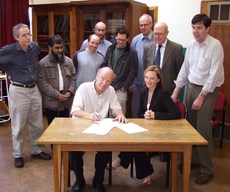 KDF9: till 1972, cost 500k, core memory 32 kwords = 192 kB, 32MB disk, 20 console-typewriters on campus
ICL 1906A: 1972-1983
DEC 2050: 1978-198x

Honeywell Multics: 1983-1989: 28MB RAM, 6GB disk

IBM 3090: c1990

e-Science farm and Midlands e-Science Centre, estab 2003 by Computer Science, Physics & Astronomy, and others.

BlueBEAR 1: 2007-2012, 1500 cores, 140 TB disk. (Contract signing photo, right).
BlueBEAR 2: 2012-now.