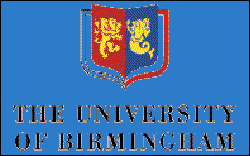 This web-site has been constructed by Stephen A. Bull who is a fourth year undergraduate, and is currently working within the particle physics research group within the School of Physics and Astronomy at the University of Birmingham. The site will be maintained by the particle physics group.
Whilst every effort has been made to ensure that all the information given on this site is accurate and correct, no responsibility can be taken by the author or indeed the University for any inaccuracies found on these pages.
We would appreciate any feedback on your thoughts of this web-site and we would welcome any suggestions for improvements. Also anyone interested in learning more about Particle Physics at Birmingham, the School of Physics and Astronomy or anyone interested in studying for a degree at Birmingham may contact us. We will be delighted to hear from you.
You can write to us at:
Spark Chamber Correspondence
C/O Dr. J.A. Wilson
School of Physics and Astronomy
The University of Birmingham
Edgbaston
Birmingham
B15 2TT.
or e-mail us by double clicking on the following address
spark.chamber@hep.ph.bham.ac.uk
Return to the home page